PADEL
We are delighted to have added a Padel court to the Club in October 2020. The take up by existing members has been huge, together with a healthy influx of new 'Padel only' members. Padel is the fastest growing racket sport in the World and has really started to take off here in the UK.
**** Please note that our Padel only membership has closed.  We are now running a waiting list – please get in contact with the membership secretary if you are interested in being added to this waiting list.  ****
MATCHES & TOURNAMENTS
We hold our annual Club Championships in the summer for mens, ladies and mixed pairs.  The rounds for the 2023 Club Championships are now underway with the Finals Day set for 2nd July 2023.
Names of our previous winners are on the honours boards in the clubhouse.
We had six teams enter in the new LTA Surrey Padel League, narrowly missing out on reaching the finals (being held at Epsom LTC on 21st May 2023) in the mixed doubles competition.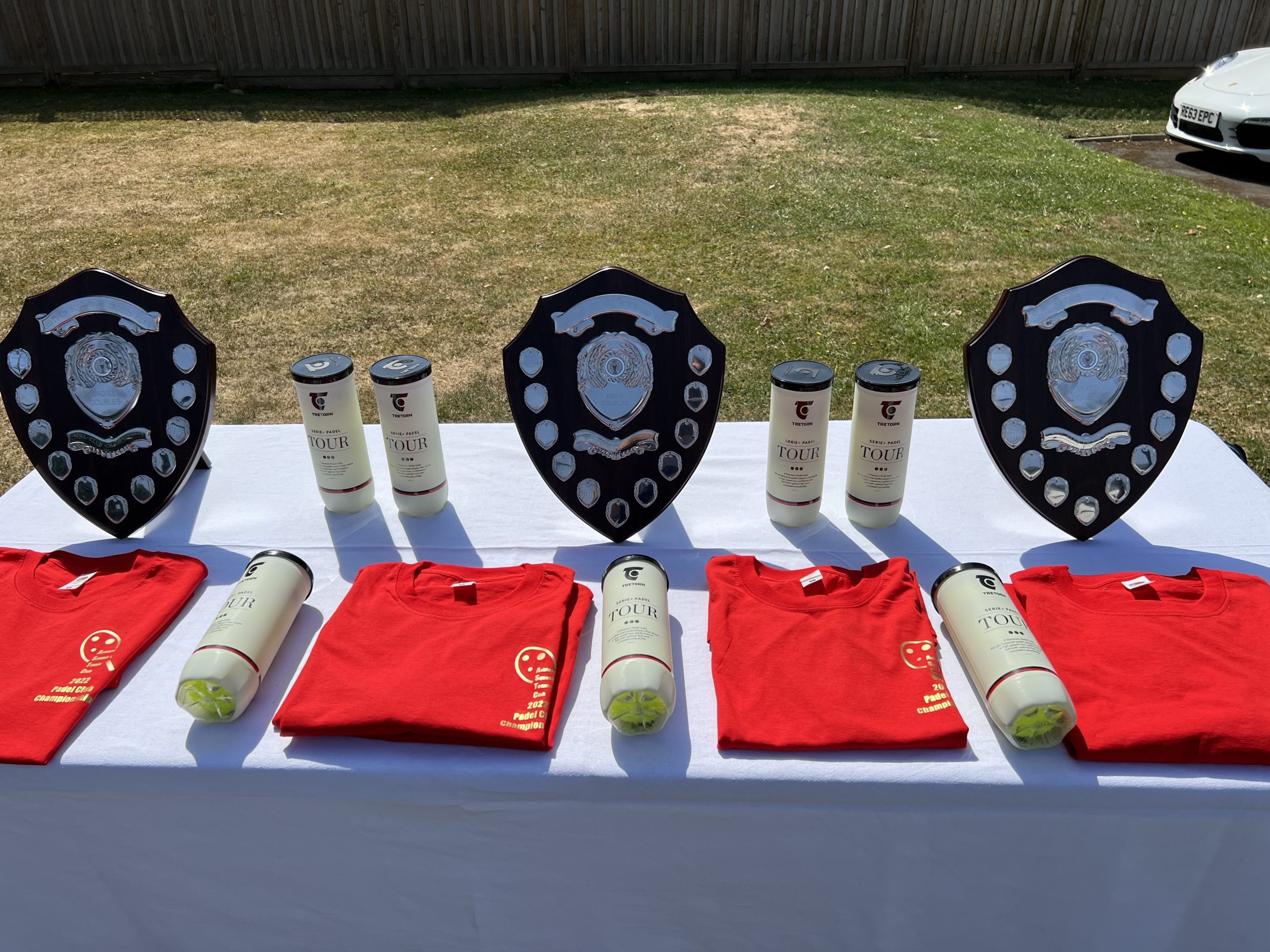 REGULAR PADEL FIXTURES
SOCIAL PADEL

We are currently running Padel club sessions for club members only on Friday mornings, 9.00am to 10:3oam for intermediate or 10:30am to 12:00pm for beginners.  Also returning for the warmer evenings is the Thursday evening club session from 7pm to 9pm.  This is £2 per person per session booked and paid in advance using the group sessions tab on the MyCourts booking system.  Intermediate level guests are welcome (with an accompanying member) to these sessions if a space is available - no complete beginners please.   Please contact Rachael if you would like to bring a guest as a guest fee needs to be deducted from your club account.

Please contact the membership secretary if you are a non-member and you would like to 'try out' Padel for the first time, or if you are a more experienced player and wish to try out our court with a view to joining the Club.  The membership secretary can be contacted on membership@ashteadsquash.org.uk

JUNIOR PADEL

We positively encourage juniors to participate in Padel, either by means of coaching or within their family groups or with other like minded families. Padel is also a great game for juniors to play amongst themselves.

PADEL COACHING - GROUP SESSIONS

We have two excellent Padel Coaches, Daniel West and Jo Robinson.

Group coaching (up to five people) is available to our members on Mondays with Daniel West - 9:30am for beginners/intermediate and 11am for advanced.  From 23rd January, a new session for beginners/intermediate at 12:30pm will be introduced.   The sessions are 90 minutes and cost £15.  Please book your place using the group sessions tab on the MyCourts booking system.  (*** Please note there is a 24 hour late cancellation charge on all group sessions ***)

Various different group coaching is available to our members and non-members with Jo Robinson - examples below.  Please contact Jo directly if you are interested in any of the below padel courses.

- Padel basics

- Padel improvers

- Junior Padel 8-12 year olds

- Teen Padel basics

- Family Padel Sessions (adults plus children)

Private coaching is also available for ASTC members and also non-members.  Please contact the coaches directly to organise this.
PADEL COACHING
Daniel West

My name is Daniel West and I am excited to be joining the Ashtead team to coach Padel on the fantastic Padel court.  I grew up playing tennis to a high standard before switching to squash where I have played as a professional reaching the top 100 in the world.  I have coached squash for 15 years and in that time I have had the opportunity to coach the Polish national team, a former world number one and many other top adults and juniors.

During the pandemic, I turned my attention to Padel and discovered a new passion.  In a few tournaments, I have already reached a UK ranking of 30 and am aiming to break the top 10 by the end of the year.  Padel is such a great opportunity to combine squash and tennis skills and I am looking forward to sharing my knowledge and experience in fitness, racket skills and match tactics to the members of Ashtead.

Please contact Daniel mentioning ASTC on danielgwest@outlook.com or text on 07954023320 (please text only - no calls as he's probably coaching!)

Individual/private group lessons - £30 + court fees

Private groups - £10 per person + court fees shared between everyone playing

> CONTACT

Jo Robinson

Jo is passionate about community rackets sports and their physical, mental and social benefits for all ages and abilities of player - particularly for 50+ seniors, women, families and juniors.

Jo is very excited about the growth potential of Padel at ASTC and in the UK generally and what it can do to get everyone, especially beginners, enjoying easy-to-learn, fun, friendly and social sport.

• Level 2 Squash and Racketball Coach
• Qualified Padel coach Hello Padel bronze level
• Level 1 Tennis Coaching Assistant
• Surrey County squash player
• Surrey County & National racketball player
• Individual lessons : £22 per hour (plus court fee)

• Groups (2-4 players) : £30 per hour  (plus court fee)

• Tasters and courses by arrangement

Mobile: 07462 327100

> CONTACT
CLUB HUB
Keep up to date with the latest events, news updates and stories across the club.